Tahiti Vacation Packages & Honeymoons
CALL NOW for a quote & receive a FREE Tahiti Travel Planner CD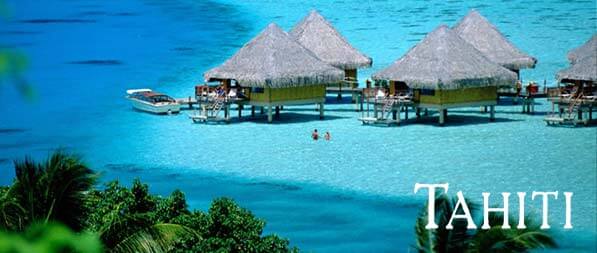 Overwater bungalow vacation & honeymoon packages
Tahiti and her islands… Bask in the warmth of a secluded, sugar-white beach. Explore lagoons of breathtaking clarity, their waters teeming with rainbows of tropical fish.
In Papeete, you'll find a modern, bustling port, with shopping ranging from black pearl boutiques to island handicrafts to the latest in French fashions. Sip a drink and people-watch at a sidewalk cafe, or savor the delicate flavors of French cuisine. On Moorea, jagged peaks, deep valleys, cascading waterfalls and breathtaking bays make a stunning backdrop for your tropical adventure. Bora Bora has been called the most beautiful island in the world. Its lagoon, a haven for water sports, ranges from palest turquoise to deepest blue. Paradise found!
Below is a list of all inclusive Tahiti vacation packages and honeymoons, as well as specials put together by our Tahiti vacation specialists for a fantastic travel experience to Tahiti, Moorea, Bora Bora and the other islands of French Polynesia. For an outer island experience, try Huahine, Raiatea, Tahaa, and the Tuamotu Islands: Rangiroa, Manihi, Tikehau, and Fakarava, a diver's paradise! There's something for everyone in enchanting Tahiti.
Tahiti Honeymoons | Tahiti Vacations | Tahiti Specials
Tahiti Cruises | Tahiti Weddings
Tahiti Resorts | Moorea Resorts | Bora Bora Resorts
Huahine, Raiatea & Tahaa Hotels | Tuamotu Islands Resorts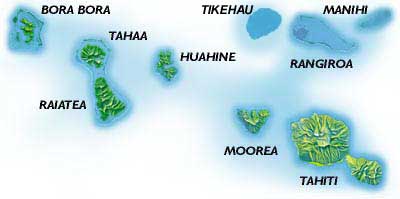 "Life is not measured by the breaths we take, but by the moments that take our breath away"
South Pacific Vacations and Honeymoons
133 Rosebay Dr. Encinitas CA 92024
phone: 760-230-6635
fax: 760-230-6634
CST # 2088746-40